THE MAIN STREET GALLERY
The Main Street Gallery is an exhibit space designed by Sol LeWitt and in which we show art works with Jewish themes, by Jewish artists, that relate to our community, or that educate the viewers on a topic of concern. All exhibits are free and open to the public. Gallery hours are Monday through Friday, 10:00 a.m. to 3:00 p.m.
Contact the CBSRZ office for more information or to register group visits.
Photography of Michael Pressman
Through October, 2023
"What's realism and what's abstraction?" Michael Pressman challenges us to decide in his new exhibit, "Surface Rising."
Pressman's two-part show presents us with paired photographs which offer one image from each genre "…as if one click of the shutter captured both…not abstract, not realistic. Simply, how I see the world."
"Bald Eagles," the second group of photos, was taken by Pressman earlier this year near Homer, Alaska. "Unlike the lower 48, DDT was never introduced into Alaska." Pressman spent five days there photographing a thriving population of about 30,000 eagles.
Pressman's exhibit opens in August and continues through October, 2023. There will be a wine and cheese reception, open to the public, on October 8th, from 3:00 – 5:00 pm.
Art of Kassandra Moriah Leiva
Through end of July 2023
Kassandra was born in Cuba and grew up in Florida and North Carolina. Her work started out with a love of color, texture and ornament. She is fascinated with the mystical aspects of different cultures, starting with her native Cuba. Cuban culture holds a blend of Spanish Mediterranean superstitions and beliefs and African religious practices. Kassandra was drawn to the connective tissue between these diverse beliefs and began to investigate them through art.
Eventually her art led her to seek the mystical aspects of Torah, interpreting the creation story through virtual Midrash. There is something intriguing about the way that humanity has consistently explored and elaborated upon complex cosmologies to explain the unknown world. Even today, when we have so much science and technology at our fingertips, it feels as if the more we know, the less we realize we know. There is something beautiful about this state of uncertainty. Kassandra's art poses the following questions: What is our place in this world? How can we grasp the unknown? And what is our relationship to that which is Divine?

Oil Paintings by Mara Sfara
Through April 24, 2022
Ms. Sfara will be present for a closing art event at CBSRZ from 3PM – 5PM on Sunday, April 24th. The public is welcome to attend.
Ms. Sfara's oil paintings capture life at its best.  She paints not what she sees, but what she wants to see or where the viewer may wish to be.  Whether her painting is an animal, landscape, portrait, or abstraction, she seeks rhythm and harmony to achieve a state of homogeneity. In all variations of art forms, Sfara shows us a multi-sensory interactive experience. As with life, we can focus on the positive and the beautiful or the harshness and difficulties. Sfara's animals demonstrate her humanistic belief that animals share both emotions and intelligence with humans. Her landscapes feature locations throughout the world that invite your inclusion.  Her portraits depict the feelings of the subject and the subject's view of himself or herself.  If the subject is still life, she gives permanence to ephemeral beauty.  She blends vibrant, surrealistic strokes with realistic lighting and shading, capturing moments in time and detailed expressions that inspire, engage, and beautify.
For more information about Mara Sfara and Mara Fine Arts, LLC, visit http://marafinearts.com.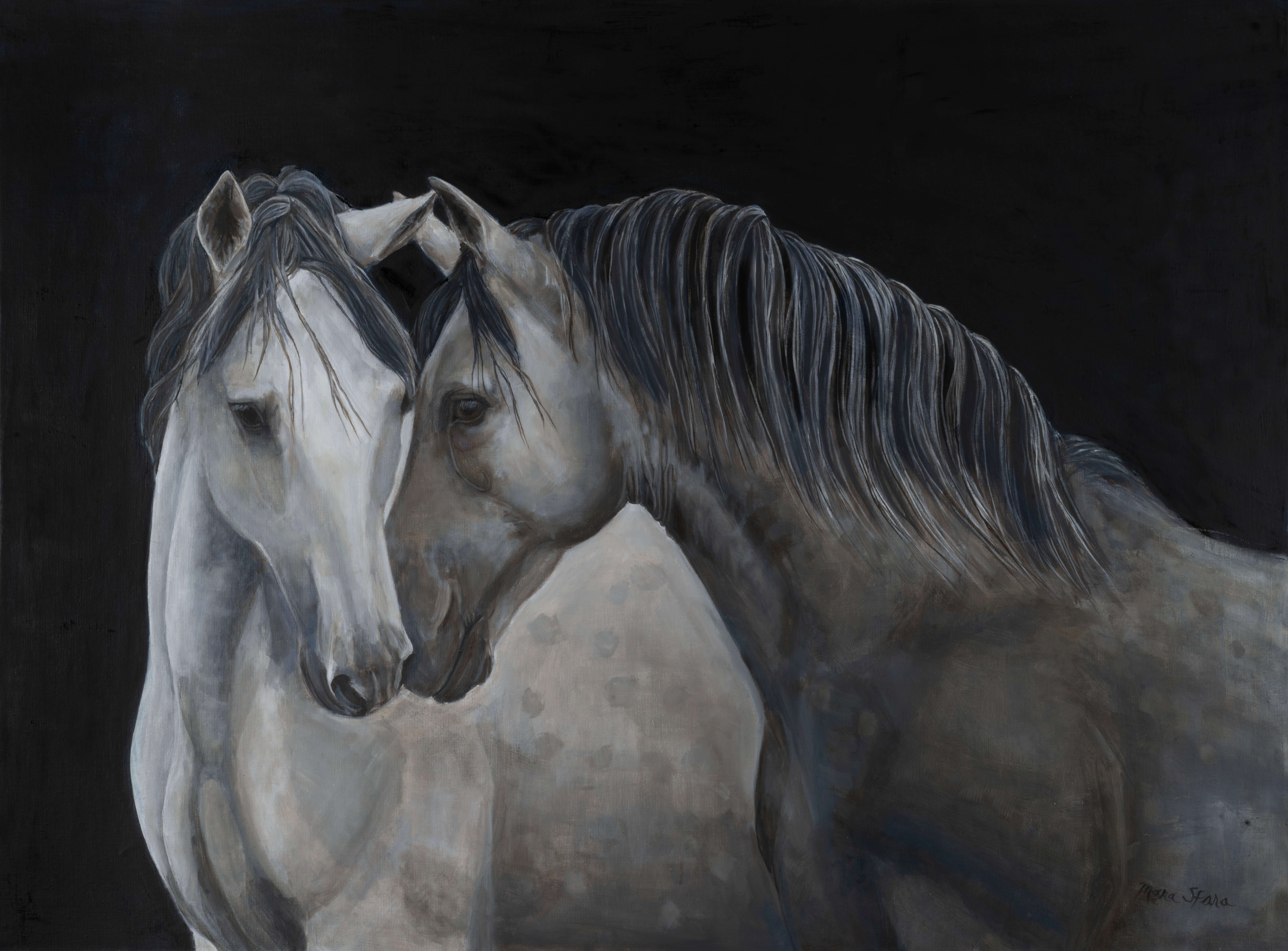 Between Two Worlds
Art Exhibit by Alan Falk
February through April 2020
CBSRZ welcomes back noted Jewish artist Alan Falk with an exhibition of watercolors and paintings on view during the months of February, March and April, 2020, Monday through Friday, 10AM – 3PM, and weekends when CBSRZ is open..
The focus of this exhibition, entitled Between Two Worlds, is Falk's exploration of the romantic and magical aspects of love and the search for the sublime. The exhibition will comprise of a series of 24 watercolors based on The Song of Songs (Shir HaShirim) and four paintings based on Sholom Ansky's celebrated Yiddish drama, The Dybbuk.
In these contrasting narratives, one is physical, earthbound, and rich in the abundance of life, whilst the other is spiritual, soulful, and weighed down by tragedy and death. Yet, in both, unconditional love prevails over all challenges. Falk's works direct us towards the unity attained by the lovers as they transcend their duality through acts of love.
Members of the congregation will also have an opportunity to meet and greet Mr. Falk at the Shabbat Across America event on Friday evening, February 28th.
Film
A Photography Exhibition by Paula Retsky
November 2019 – January 2020
The fashion photography of "unique, skillful and talented" photographer Paula Retsky will be exhibited November 2019 – January 2020 in the CBSRZ Main Street Gallery.
Opening reception, Friday November 8th, following Shabbat services.
All are welcome.  Mon-Fri, 10am – 3pm.
Moments in Time: Art Exhibit by Gabriella Ducharme
May through July 2019
Celebrated landscape artist, Gabriella Ducharme's, captivating art exhibition opens May 12, 2019, with a reception from 3:00 to 5:00 pm and runs through July.  Whether it's the shore of Rhode Island or quaint cafes, gardens or charming houses along the Florida coast, Gabreilla's (Gabby's) artistry taunts you to become a part of the scene.  Gabby is known for her artistic views and her ability to create a play of light and shadow in her paintings.  A professional landscape and pet portrait artist for over thirty years, Gabby is dedicated to connecting people emotionally through her paintings.
"My passion is my art.  I love creating works of art that depict the unique beauty of fascinating locations through my eyes, painting locations that connect the viewer, so they feel that they can imagine themselves being there.  In my art I hope to inspire the viewer to become a part of my experience," comments Gabby.
Coming Together: The Sculptures of Gilbert Boro
February through April 2019

Nationally renowned sculptor, Gilbert Boro, will open his CBSRZ exhibit on Sunday, February 3, with a reception from 3:00 to 5:00 PM to which the congregation and the shoreline community are invited.  Ten to fifteen works of aluminum, steel, and copper, plus a few larger pieces will be on public display for the first time.  Several of these pieces reflect the many years Boro was deeply committed to offshore racing and cruising with his wife and family.

This show has special significance for Mr. Boro because CBSRZ is the repository of a memorial light celebrating the memory of his wife of 48 years, Emily Seward Boro, and because Boro credits his interaction with CBSRZ's designer, Sol LeWitt, with firing his creative imagination at a young age.  Boro says he was "…inspired and challenged to broaden (his) vision, which resulted in his applying (his) art education to the creation of architecture.  Having my sculptures exhibited here has special meaning for me."

This exhibit is rather novel in that to a large degree the sculptures are scale models of the work Mr. Boro anticipates placing in a future outdoor show celebrating the completion of  CBSRZ's meditation garden.  Boro will be on hand to speak and answer questions.

This will be a gala event with wine, appetizers, and music at no cost to visitors.  Again…Come join us Sunday, Feb. 3, from 3:00 to 5:00 PM.
Light Beams: The Art of Vlad Smolkin
November 2018 to January 2019

Vlad Smolkin's art may seem whimsical at first sight, but there is a serious core to it all.

"Questions of faith and identity are always present in my work – especially because, for me, being an artist is itself a faith system and worldview, a perspective on life's big questions and an attitude about people and things.

"The works explore the contradictions and complexities of this attitude using humor and an idiosyncratic approach to art making.  Self-criticism, irony, and humor have always been central to Jewish life and culture, and there is a rich history of Jewish artists, comedians, and musicians doing just this.  I see myself as working within and continuing this tradition.  My works often depict unconventional meeting points and overlap between groups and cultures –  to explore commonality rather than the difference in the most unexpected places."

Be sure to come to a new type of art opening/book event on Sunday, November 11th, at 4:00 p.m., and share our 'Sacred Space' with both Vlad and Victoria Smolkin, their thought-provoking insights and the fascinating work they have created.
Images Sous-Marines by David Zeleznik
August through October
David Zeleznik, peer-pressured into scuba diving, quickly developed a love of exploring a magnificent world hidden from most eyes and started taking cameras along to share his sense of wonder with friends who prefer keeping their heads above water.
"The art of capturing animal camouflage and spotting critters that others swim past unnoticed" are two of his greatest joys. David opens this color-filled and exciting water world to us in his upcoming exhibit.
Connecticut Valley Camera Club Juried Show
May 4 to July 27, 2018
A juried selection of photographs by members of the CT Valley Camera Club (CVCC) will be on display at CBSRZ from Friday, May 4th through Friday, July 27th.   
This exhibition will highlight the work of many of the Club's approximately 50 members, whose occupations and ages vary greatly, demonstrating the diversity present within the Club. The photos on exhibit are all available for sale with a generous percentage of the sale price benefitting CBSRZ.
Ashby Carlisle and Rick Silberberg
Through January 2018
Ashby Carlisle creates sculptural landscapes with an impressionist flair.  "My routine of witnessing the first light with black silhouettes of bare vines and trees lyrically dancing across the vista fuels my art with colors, images, lines, and ponderings about nature.  I have developed a unique process to translate my observations into sculptural landscapes.  It starts when I form clay to become the earth's crust.  With the clay pieces finished I begin fabricating the paper, metal, and wood that join the clay to complete the image.  While labor intensive, the work is very engaging as it summons many different skills and techniques:  printing and dyeing paper; forming, firing and glazing clay; welding steel and bronze; routing and constructing wood boxes; and applying the various finishes each material requires."
A year ago Ashby was invited to create art inspired by a new novel, "Queef," written by New London artist, Casey Spectacular.  Ashby will be illustrating Chapter 11, "The Funeral," in which the main character travels through stages of emotion attending his grandfather's funeral.  The book premieres at the Hygienic Art Gallery in New London August 11 and continues to September 9. To learn more about the artist Ashby Carlisle visit www.ashbycarlisle.com.
Rick Silberberg's landscape paintings have been described as both peaceful and disquieting.   "Silberberg's creations seem to transform into something other than they started out to be.  Here are abstract landscapes that reach for more literal grounding; there, one finds quasi-representational landscapes in the process of melting into pure abstraction.  The longer one spends with the paintings, the more hypnotic and enchanting their effects." (Steve Starger – Art New England)
Silberberg was born in New York City in 1946 and received his M.A. in studio art from the City University of New York in 1972 after which he exhibited at the San Francisco Art Institute and in galleries in Berkeley and Oakland.  He has been awarded the Chalker Prize and his work appears in many private collections.  Silberberg was formerly an art therapist at Whiting Forensic Institute and the gallery director of the Essex Art Association Gallery.  He is a former member of Artworks Gallery in Hartford and is currently a member of Gallery One, a shoreline coop which exhibits in many venues along the northeast coast. To learn more about the artist Rick Silberberg visit www.ricksilberberg.com.
An opening reception with local musicians will be on Sunday, November 12, from 3:00 p.m. to 5:00 p.m. This is free and open to the public. Both artists will be on hand to discuss their work and answer questions.
Michael Pressman
Through October 2017
"As a recent settler here in the Valley/Shoreline from the New York City area, I was struck by the great beauty surrounding my new home – the marshes, rivers, and preserves. But as a nature photographer who rejects hackneyed picture-postcard images, I felt discontent with my efforts to photograph my surroundings in a meaningful way. In my restlessness, I sought inspiration in the very first photograph I fell in love with as a young man: White Fence by the great Jewish master Paul Strand (1890-1976). Strand's 1916 photograph emphasizes a mundane white picket fence. Yet, Strand was fascinated, saying the fence was 'very much alive, very American, very much a part of the country'. Strand's groundbreaking, beautifully composed image plays tricks with the depth and light and emerges as an unforgettable portrayal of Americana. Fences are as beautiful to me as the rocky shore of Hammonasset. My challenge was to combine the natural beauty of the area with the practical and evocatively metaphorical structure of fences."

Michael spent more than thirty years as a national broadcast journalist for both ABC News and NBC News, on programs that included ABC News 20/20, Dateline NBC and Today Show. Mostly working in "long form" – news magazines and documentaries – as a producer, director, and writer, Michael is the recipient of the Overseas Press Club's Edward R. Murrow Award, an Emmy, and the Cine Golden Eagle Award. Michael has exhibited his photography widely in the metro New York City area.

An opening reception for "Fences" will take place on Sunday, August 13, 2017, from 5 pm to 7 pm and regular viewing is Monday through Friday from 10 am to 3 pm.
Moses E. Hoskins
May to July 2017
Moses E. Hoskins was born in 1953 in Iowa where he spent his youth and some time as an adult. He was educated in public schools and attended a few colleges in the Midwest before receiving a BFA from the University of Iowa School of Art and Art History.
As a visual fine artist, his roots were in figurative rendering but he has worked abstractly since the mid-80's. Residing in New York City since 1988, Hoskins has exhibited in a variety of venues. He is a recipient of grants for support of his continuing work in painting, drawing, and collage from the Adolph and Esther Gottlieb Foundation and also from the Pollock-Krasner Foundation. In NYC he exhibited regularly with OK Harris from 2000 until their closing in 2014 after 45 years.
Gallery Reception – Sunday, June 4th, 3:00 – 5:00 pm
Robert Jacoby and Rita Brieger
February – March – April 2017
Robert Jacoby
Robert Jacoby retired as an academic veterinarian from the Yale School of Medicine in 2004.  In his more than thirty years as an acc­omplished artist, he has exhibited in many juried shows and shown in local galleries including Congregation Bethel Keser Israel.  His work is included in two dozen private collections and at the Yale School of Medicine.
Jacoby's approach to painting "varies in emphasis between color and marks, depending on the spontaneous dialogue that emerges between my psyche and a painting as the latter takes form.  This is all in service to personal discovery about the meanings and mysteries of duende.  The result, not surprisingly, is stylistic diversity which may seem confusing to viewers looking for a consistent "voice" in my work.  This is a small price I pay to stay authentic to my internal compass."
Jacoby and his wife, Marcia, have lived in Guilford since 1971 and are founding members of Temple Beth Tikvah in Madison.  They enjoy the company of their two children and five grandchildren
Rita Brieger
Most people know Rita Brieger as a Bridge teacher or the Rabbi's wife and are surprised to discover yet another side of her…the artist.  Since Brieger's graduation from the University of Connecticut in 1965, she has studied watercolor, acrylic and drawing, worked with notable artists and taken workshops with Beth Patterson, William "Skip" Lawrence and Steve diGiovanni.  Brieger's paintings have been exhibited in art shows throughout Connecticut including Oxford Cultural Art, the New Britain Museum of American Art, the Hamden Art League and Paint and Clay.
As an artist Brieger has "learned that the creative process is so hard and is, in fact, unique for each individual artist.  A work of art is a reflection of the SOUL print of the artist.  Art has taught me so much about myself, giving me a way to express myself in ways that I had never before been able to verbalize.  I love to be spontaneous, yet I need structure in my life.  My wardrobe is basically black, white and beige, but my paintings often explode with color.  I do not like being told what to do, yet I need direction."
Having been married to the Rabbi who led Temple Emanuel in Orange, Connecticut for thirty-three years, Brieger jokingly refers to herself as the "Rebbetzin Emeritus."  She now resides in Bethany, Connecticut where she is the devoted grandmother to her five-month old, twin granddaughters
Dorothy "Sis" Palmer
December, 2016 to January, 2017
CBSRZ member Peg Palmer, with the help of her daughter, Sarah Hornung, gathers together her mother's beautiful artwork for this exhibit. Large, colorful, exquisite flowers fill Dorothy "Sis" Palmer's canvases. Gallery, corporate headquarters, and large institutions throughout the country collected Palmer's work. The Palmer family will be donating the proceeds from all work sold to CBSRZ.
An opening reception will be held January 8, 2017 from 2:00 to 5:00 p.m.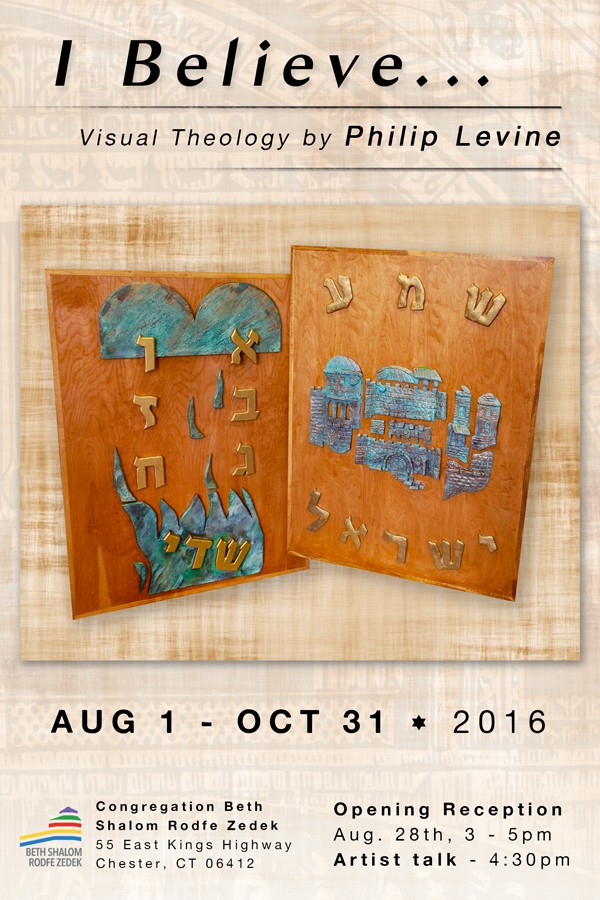 Phil Levine
August to November, 2016
Stratford, Connecticut artist and sculptor Phil Levine will do a composite retrospective of flat work and sculptural works for our gallery. "As I continue my study of Judaism, the way I come to terms with what I am learning is by making 'Hand Made Midrah." My works are study pieces on Jewish life, Jewish ritual objects and on Holocaust studies."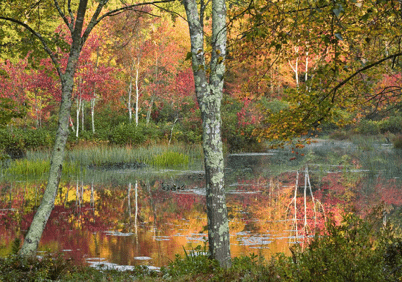 Connecticut Valley Photo Club
May to July, 2016
A new photo exhibit by the members of the Connecticut Valley Camera Club is now on display through July.
Following A Passion started in 2002, the CVCC is an active group that boasts 45 members and backgrounds as diverse as the photographs they create.  From architect to molecular biologists, to flight attendant, they are united in their passion for capturing sights that speak to them (a UCONN Gallery Statement).
The group makes its second appearance in our Main Street Gallery.  The exhibit will remain open to the public Monday thru Friday 10:00 am to 3:00 pm.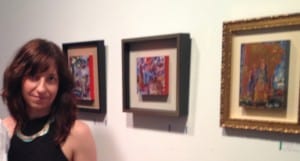 Juniper Foster
February 12 to April 30, 2016
New York artist Juniper Foster in her abstract and representational paintings strives to take us on a journey, "…but I want you to see my bruises and scrapes along the way. My identity is hidden behind a curtain of being American…inside a culture which is often horrifying… Being an artist…able to see, feel and create what cannot be defined…that is magnificent."
In June of 2015, Foster had a NYC show with Harry Folsom for the Highline Art Walk and her work will appear in the Hali Foundation fundraiser for underprivileged, autistic children.
An opening reception will be held March 13th from 3:00 to 5:00 p.m.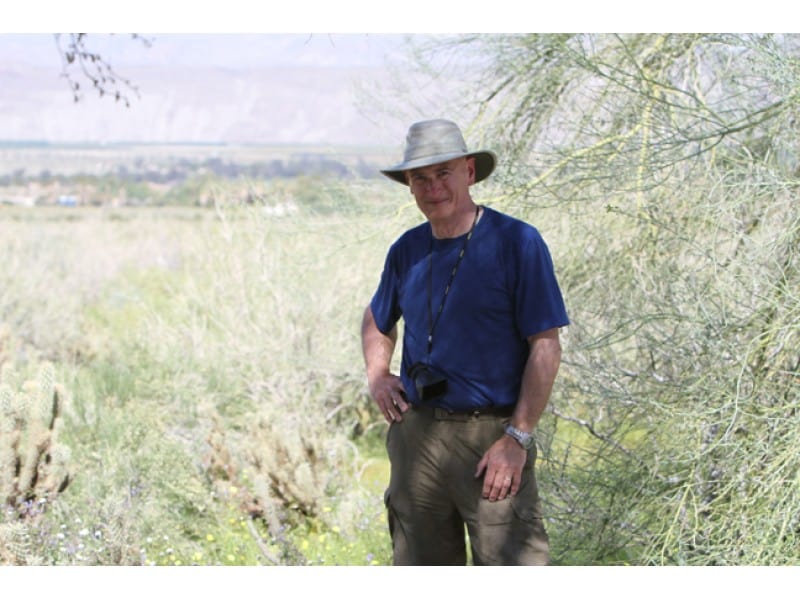 Steve Nadler
November 17, 2015 to January, 2016
Photographer Steve Nadler comes to CBSRZ on the heels of his highly acclaimed show in New York, "A Moment in Time." An Essex resident and CBSRZ member, this is Nadler's third exhibit in the Main Street Gallery. From the human condition to the wonders of nature, from photos that define the meaning of "family" to those that reveal the secrets of the smallest elements that make up our world, Nadler's focus through the camera lense is always new and exciting.
OPENING RECEPTION
December 6, 2:015 to 5:00 p.m.