CHESED
Pray as if everything depends on God, but act as if everything depends upon you.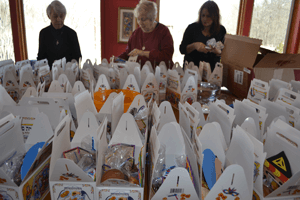 The Chesed Committee provides pastoral care and support for our congregants in times of need and in times of happiness. Our mission is to help our congregants help each other. In creating opportunities to do these mitzvot, we are building our community and fulfilling the covenant to ensure that help will be there when we need it as well. Caring for each other is a Jewish tradition. We provide volunteer opportunities, keep track of those in need and what they need, and make sure that no one gets left behind.
CHESED members work together to:
•   Send cards, call, visit, bring food when people are sick
•   Visit folks in the hospital, rehab, or nursing homes
•   Help families with shiva arrangements when a loved one has passed
•   Create a buddy program to match volunteers with congregants who have special needs
•   Provide rides to the temple or other locations when necessary
•   Celebrate new births and conversions
•   Yarn crafters provide hand-made items, such as comfort shawls, hats, scarves and chemo caps for folks of all ages in need
If you are interested in learning more about Chesed, either how to volunteer or if you are in need of assistance, please fill out the form below and someone will get back to you personally.
CHESED VOLUNTEER OPPORTUNITIES