OUTREACH
The mission of the Outreach committee is to provide inviting, welcoming, supportive and educational opportunities for all who are interested in learning about or strengthening their knowledge of and connection to Judaism. The committee focuses its efforts on members and non-members, Jewish individuals and families, interfaith families, non-traditional families, seekers, and Jews-by-choice.
Shabbat "At-Home" Dinners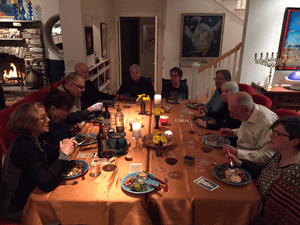 Following a brief Erev Shabbat service at the synagogue, families have the opportunity to then share in a traditional 'at-home' Shabbat dinner in the homes of some of our members. Hosts provide the main entrée and set a traditional Shabbat table, while guests are asked to bring side dishes and desserts. This is a wonderful opportunity to get to know other members of our community – singles, couples, and families – in an intimate setting and to celebrate Shabbat together.
Shabbat Across America
Want to experience Shabbat? Whether you celebrate Shabbat regularly or want to learn how to enrich your home Shabbat celebration, experience the joy of Shabbat Across America at Congregation Beth Shalom Rodfe Zedek. All are invited to attend, as CBSRZ welcomes the shoreline community as part of a nationwide, once-a-year Shabbat Across America celebration hosted by 700+ synagogues throughout the country. Shabbat, the weekly Jewish day of rest, is when families gather together to observe a traditional service and enjoy a festive meal. Parents with young children are invited to arrive early for a Tot Shabbat service. We begin the evening with a wine and cheese reception for adults, followed by a traditional family Shabbat potluck dinner. Rabbi Rachel Goldenberg and Cantor Brenda Brennan lead an interactive Shabbat service with all the rituals explained. We close the evening with an Oneg Shabbat when all are invited to enjoy an array of homemade desserts and fellowship.
Chairperson, Outreach Committee