Do not be daunted by the enormity of the world's grief . . . you are not obligated to complete the work, but neither are you free to abandon it.
Social action and service are at the heart of our community. CBSRZ, through the Social Action Committee (SAC), seeks to be a catalyst for acting on our humanitarian initiatives and Jewish values.
Themes for Social Action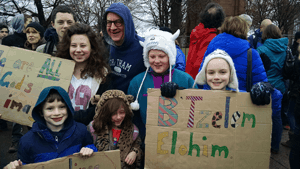 Each year, SAC focuses our efforts on broad subject areas – or themes. We currently concentrate our effort on issues of hunger, housing, children and their rights, prisons and criminal justice reform, health care, and celebrating diversity.
Legislative Action
In addition to local and regional projects, we are involved in legislative and administrative advocacy on these issues.
Public Communications about Our Activities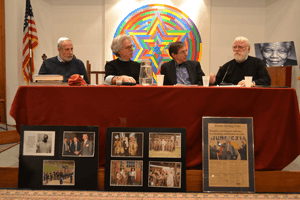 We think it is not only important to do our social action activities but also to make others aware of social action and the issues they address.
Emergencies
"Man plans, and God laughs" (Yiddish proverb)
Although we have theme areas for social action, we are continuously presented with emergencies around the world (whether caused by nature or man), and we seek to do what we can to help out. We have assisted two families, one from Iraq, one from Syria. These efforts were largely put on hold by federal restrictions to refugee resettlement, but could begin again if those restrictions are lifted.
New Areas of Social Action
If you have any other issue that you think we should consider, please contact us.
Volunteers
Effective social action depends on the involvement of many in our CBSRZ community. Congregants are encouraged to volunteer two to three hours each year, as we need five to 10 volunteers to make each of our individual activities a success. To volunteer, please contact the chairperson.
Roslyn Reeps
Chairperson, Social Action Committee
"God . . . befriends the stranger, providing him with food and clothing.
You too must befriend the stranger, for you were strangers in the land of Egypt."
– Deuteronomy10:19
Hunger is a large and increasing problem not only in our country but in our region. One in seven households in Connecticut are struggling to put food on the table (and an even higher percentage in many towns in our area).
You can help us address the tragedy of poverty amidst plenty in one of the wealthiest areas within one of the wealthiest states.
Food Drives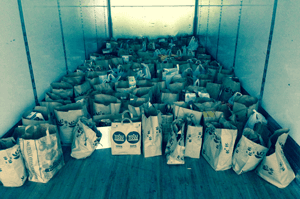 The CBSRZ Social Action Committee works with Shoreline Soup Kitchens and Pantries (SSKP) to help fill SSKP pantries with donations of non-perishable items throughout the year. SSKP has pantries in Old Saybrook, Westbrook, Clinton, Old Lyme and East Lyme, which try to provide enough food to supplement government food programs and provide for the increasing need of families for food since the economic downturn in 2008.
Our efforts include:
ongoing food donation throughout the year into boxes available at CBSRZ
an April "Stuff a Truck" – parents and kids encourage shoppers to donate food at a local grocery store
annual High Holiday food drive between Rosh Hashanah and Yom Kippur, which has delivered over one ton of food each year, which SSKP tells us is consistently among their largest single donations
In addition, we sponsor an annual collection of funds by CBSRZ for contribution to SSKP, which receives a matching grant from a business donor.
Meal Sites & Soup Kitchens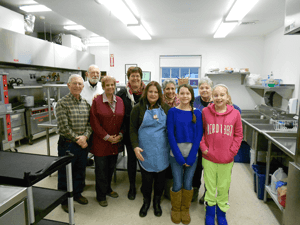 CBSRZ sponsors quarterly community meal sites (also known as soup kitchens) preparing and serving hot and nutritious meals family style at meal sites in Chester on Sundays and Deep River on Thursdays in conjunction with the Shoreline Soup Kitchen and Pantries (SSKP). SSKP has weekly meal sites in Centerbrook, Essex, Deep River, Chester, Old Saybrook, Westbrook, Clinton, and Old Lyme.
For more information about SSKP, please visit www.shorelinesoupkitchens.org.
SAC has been part of the Shoreline Basic Needs Task Force (SBNTF) since it was established in 2013, to address issues of poverty, including hunger, throughout our region. Through SBNTF, we have organized both locally and statewide, including legislative and administrative actions. We sponsored a community discussion and showing of the full-length documentary about hunger in America, "A Place at the Table," and by 2014 had successfully ensured that all our river valley towns provide federally subsidized school breakfast and lunch programs during the school year. By 2015, we were able to establish summer meal programs for kids in need. We are also seeking to ensure that families and seniors are able to get fresh food by increasing the cooperation of area farmers' markets.
Raising Money for and Awareness of Nationwide Hunger
We assist MAZON, the national Jewish fight against hunger, by collecting money each year. The mission is to provide for people who are hungry while at the same time advocate for other ways to end hunger and its causes, and to educate and raise the consciousness of the Jewish community regarding its obligation to alleviate hunger. For more information or to contribute, please visit www.mazon.org.
Community Gardens
On the grounds of CBSRZ, we have prepared a number of 20'x20' and 20'x10′ plots for planting. Members of the Chester area community may use these plots to plant gardens. We do ask that you share some of your harvest with local food meal sites, such as those provided by the Shoreline Soup Kitchens and Pantries.
"No, this is the fast I desire . . . to take the wretched poor into your home . . ."
– Isaiah, 58, 6-7
Homelessness in our region affects both individuals and families – together, we can reduce these number and increase self-sufficiency through addressing all aspects of the housing market.
Affordable Rentals
We have worked through End in Ten, an organization of faith communities that is based in Middletown, to furnish apartments in Middletown for homeless individuals, working in conjunction with St. Vincent de Paul, a Catholic charity, and the United Church of Christ, Congregational in Chester.
Affordable Ownership
We work with Habitat for Humanity, the international leader in volunteer construction of affordable houses, and other organizations to help build houses for area residents.
Collecting Furniture
We are often in need of used furniture – in good condition – for the housing help that we provide.
Working with other Local Organizations for Further Impact on Housing Issues
SAC has been part of the Shoreline Basic Needs Task Force (SBNTF) since it was established in 2013, to address issues of poverty throughout our region, including homelessness and other housing issues. This includes working with HOPE Partnership and other local non-profits dedicated to affordable housing, raising community awareness and fostering efforts to increase the stock of affordable housing throughout our communities.
Helping ensure adequate health care – and particularly care for mental illness – remains a key theme for SAC.
Blood Drives
We continue to sponsor two Red Cross blood drives at CBSRZ each year, staffed in part by CBSRZ volunteers. These events raise blood for the blood bank and awareness of this critical need throughout our area.
Affordable Care
SAC works with United Action of Connecticut (UACT) on various health initiatives, including in connection with the federal Affordable Care Act.
Mental Health
Mental health programs, which have been severely underfunded, have received renewed policy focus following the repeated gun violence throughout the country by persons with a history of mental illness. In addition to periodic discussions within CBSRZ, we work with the National Alliance on Mental Illness (NAMI Connecticut) on legislative and administrative advocacy.
Environmental Health
SAC is considering environmental action both locally (including using CBSRZ's own property) and legislatively at the state level.
If society is measured by the way it treats its most vulnerable, social action must ensure the protection of our children.
Providing Essentials
In addition to recognizing the importance to children of our work to alleviate hunger, we help provide clothing (particularly winter clothes), toys and books to children and various area schools and institutions.
Policy Initiatives
SAC has sponsored programs to address major – and often unseen – issues facing children and their families in Connecticut as well as throughout the country. These have included discussion with local experts about Connecticut's problem with the imposition of overly harsh sentences for crimes committed by minors and the serious problem of sex trafficking, mostly involving young girls who are enslaved by men and forced to engage in prostitution. We have lobbied for passage of legislation on these and other issues to improve the lives and rights of children.
Over the past 30 years, the United States has become the most imprisoned population in the history of the world. SAC has been involved in the struggle to make sure not only that the prison population is given hope but that we fight to change the focus of the laws and culture from bondage to freedom.
Books for York
Each year, SAC collects books for the men and women at York Correctional Institution in Niantic, which had been a women-only facility from its founding in 1918 until 2011. As one recent thank-you note said: "A book donated to an incarcerated woman is a sign that she matters and that gives her hope for her future." Please bring books to the synagogue for donation any time.
Prison and the Arts
We have had an ongoing theme of art and prisons, which has included prison art exhibits at CBSRZ and performance of poetry, dance and other artistic work done by or with the women at York. We have provided art supplies for the benefit of those incarcerated at York.
Programs on Criminal Justice and Prison Reform
SAC has sponsored discussions focused on the injustices within the criminal justice and prison systems, including forums on ending over-incarceration and on solitary confinement.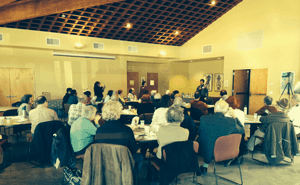 Diversity is perhaps the most powerful protector of the rights and culture of individuals and communities that are different from most, and this holds special significance for the Jewish people throughout history. SAC thinks it important to affirmatively celebrate diversity both within and outside the Jewish community – diversity of views and diversity of cultures.
Exploring diversity within the Jewish Community
Although Jews and Jewish communities often seem aligned on policy issues, and in opposition to the views of others, it is important to recognize and celebrate those areas in which we have different views. These have included forums on the boycott, divestment and sanction movement and death with dignity (scheduled for March 2016).
Taking Actions with Communities of other Faiths
SAC encourages our friends outside the synagogue, including those in non-Jewish communities of faith, to join in our social action activities, and we seek to engage in social action directly with other faith communities. We have worked on issues of health and immigration with United Action of Connecticut, of which CBSRZ is a member along with about ten churches throughout central Connecticut, on refugee resettlement with churches in Middlesex County and on issues of homelessness with End-in-Ten (sponsored by St. Vincent de Paul, a Catholic charity) and United Church of Christ Congregational in Chester.
Forums Celebrating Diversity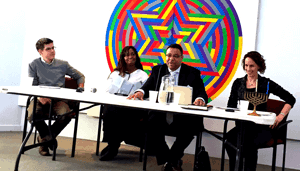 SAC has sponsored various events focused on issues of celebrating diversity, including, among others, recent panel discussions on:
Anti-Semitism
the current wave of "undocumented" immigrants coming to America and how it relates to the Jewish experience
the boycott, divestment and sanction (BDS) movement
racial justice and criminal justice
We also hold programs that focus on the relationships that Jews and Jewish communities have with other people and communities, or that seek to reach out to other communities, including our annual sponsorship of programs on the Shabbat evening of the Martin Luther King, Jr. holiday weekend.
Our direct delivery of services to people and communities in need is supplemented by our legislative and administrative advocacy to change laws and regulations to help address these same issues and their root causes.
Direct Advocacy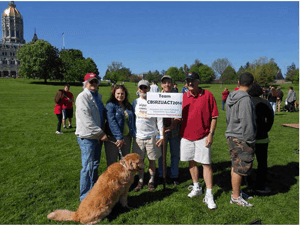 We continue to face many issues that can best be addressed through changes to laws and policies on a local, state or national level. SAC was successful after the school shootings in Newtown in helping to address legislative efforts for gun control and has met with legislative representatives and leaders on issues of children's rights and mental health. As the broad geographic reach of the CBSRZ congregation permits us to impact these areas broadly, we will continue to seek to influence change where appropriate, and we hope to provide the opportunity and resources to allow many CBSRZ congregants to join in those efforts.
Advocacy through other Organizations
Some members of the Social Action Committee also volunteer their time as representatives of CBSRZ in other organizations involved in legislative advocacy for social justice. SAC is represented on the board of directors of United Action Connecticut (UACT), an organization of over ten faith congregations, of which CBSRZ is the only Jewish community, which has focused on issues of immigration and health. SAC also has representatives on the Shoreline Basic Needs Task Force, which addresses all aspects of the issues of poverty as they affect communities in our area.
Programs about Advocacy
We hold forums and training on advocacy itself, which have included legislative advocacy and nonviolence training.