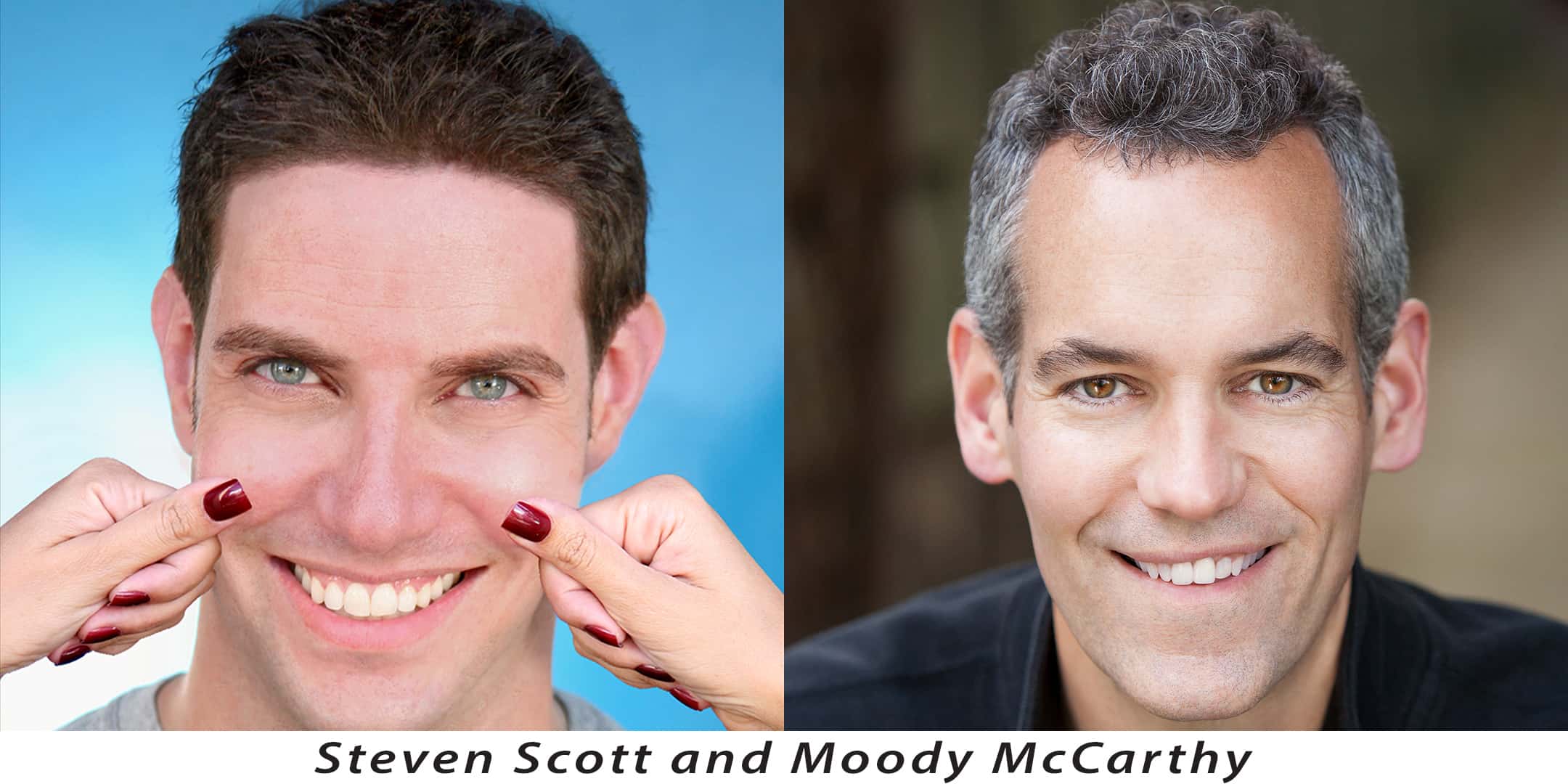 SATURDAY, MAY 11, 2019
7:30 p.m.
A funny thing is happening on the way to Chester, CT as CBSRZ once again turns into a NY comedy club featuring Steven Scott and Moody McCarthy, both veterans of Comedy Central, network TV, casinos, Las Vegas, and the NYC comedy club circuit. Team M&M looks forward to serving you wine, beer, seltzer, and snacks. Audience 18 and older.
Our office closes on Friday, May 10 @3pm for the weekend. Tickets are available online below or at the door.
$45 (plus processing fees) for adults 18 and older
$40 (plus processing fees) for CBSRZ members
Doors open at 7:30 p.m. 
Plan your visit to Music & More with this map of our supporting restaurants and merchants. Some of our local restaurants are offering special discounts to ticket holders.
Steven Scott is a comedian, actor, and host whose unique and tasteful brand of comedy combines clever observations of his everyday life with his amazing vocal talents which include an array of characters, voices and sounds ranging from celebrities to musical instruments. Described as a perfect mix between Jerry Seinfeld and Jim Carrey, Steven loves getting paid now to do exactly what used to get him in trouble as a kid. He has traveled to all 7 continents; performing comedy clubs, conventions, cruises, colleges, festivals, roasts, military bases and major stages from Broadway to the Las Vegas Strip. He has performed with some of the biggest names in show business, both on stage as well as on-screen where he has made numerous television appearances on shows for NBC, CBS, FOX, VH1, MTV, Comedy Central, Gotham Comedy Live and, most recently, NBC's America's Got Talent! Steven was also cast as a series regular in a pilot for a hip sketch comedy show co-starring Tyra Banks & Jamie Foxx and is a longtime member of the legendary Friars Club. Don't miss the chance to see this ultra-talented man in action!

Moody McCarthy is, quite simply, one of America's sharpest young comedy minds. Besides being in constant demand at America and New York's very best clubs including The World Famous Comedy Cellar, Caroline's Comedy Club, and Gotham Comedy Club, Moody has appeared on many television shows including CBS' "Star Search," ABC's "Jimmy Kimmel Live", America's Got Talent, "NBC's "Last Comic Standing", two appearances on CBS' "The Late Show with David Letterman" and, most recently, Conan on TBS. Moody can also be heard regularly on SiriusXM Radio and appears regularly at the country's best casinos including Mohegan Sun and Turning Stone where he shares the stage with big names such as Brian Regan, Wanda Sykes, Lewis Black, and Robert Klein. Look for more high profile appearances in the near future and beyond from this rising star!
DETAILS
Saturday, May 11, 2019
7:30 p.m.
VENUE
CBSRZ
55 East Kings Highway
Chester, CT 06412
860-526-8920