The Lonely Heartstring Band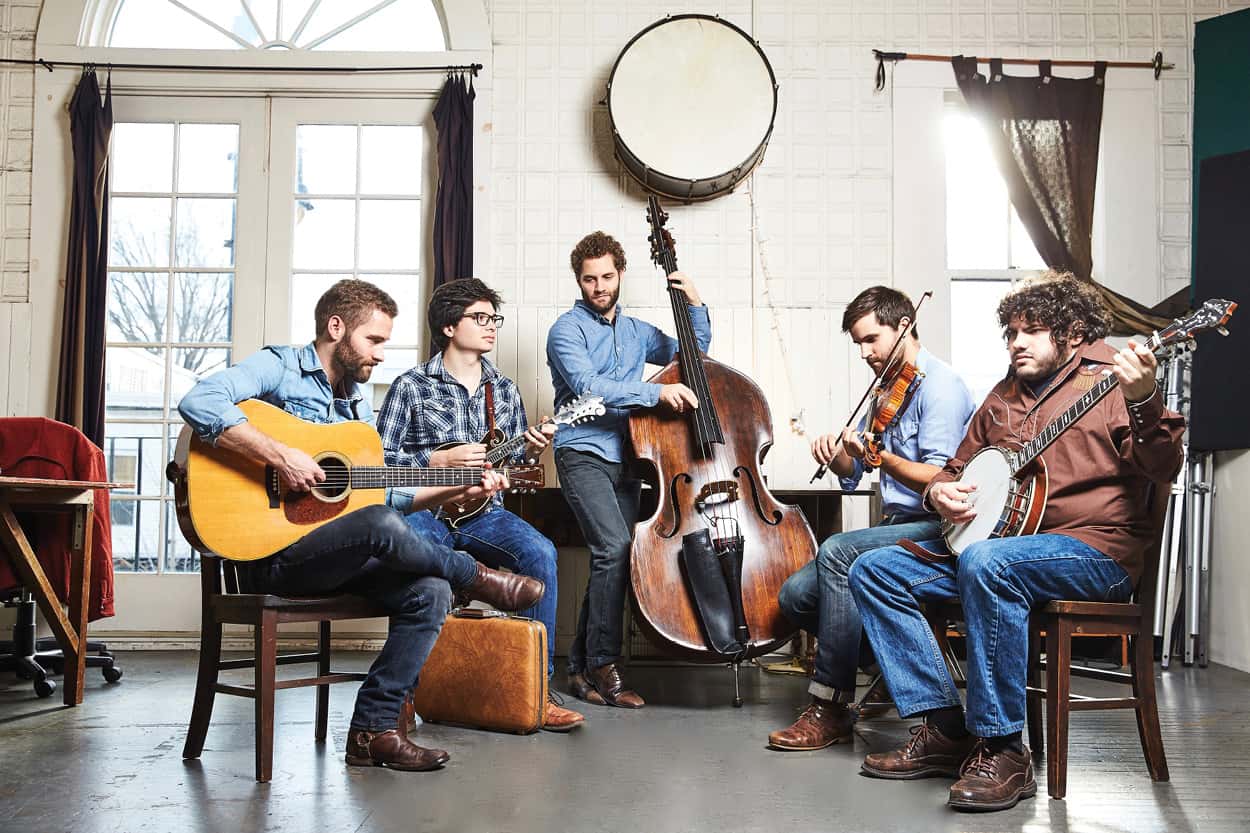 Sunday, April 15, 2018
4:00 p.m.
Tickets are available online until Sunday noon and at the door!
The Lonely Heartstring Band is an imaginative, exciting, and dynamic new force on the national bluegrass scene and are not to be missed. Emerging from Berklee College of Music, they are nourished in the expansive canon of traditional American music. The Lonely Heartstring Band embodies the modern American condition—an understanding and reverence for the past that informs a push into the future. This multi-talented group of musicians is a classic Bluegrass quintet—always far greater than the sum of its parts. Combining soulful instrumental virtuosity with soaring three-part harmonies, their growing repertoire of original songs and compositions showcases not only their considerable talents, but a dedication to meaningful roots-conscious music. Since their beginnings in 2012, The Lonely Heartstring Band has been on the rise and shows no sign of slowing down. With their 2015 International Bluegrass Music Association Momentum Award and their 2016 release of their debut full-length album on the legendary Rounder Records label, they are at the front edge of a significant career.
Ticket Purchase
$25 (plus processing fees)
$20 (plus processing fees) for CBSRZ adult members when promotional code is applied at checkout
$15 (plus processing fees) for children under 13
$10 (plus processing fees) for CBSRZ children under 13 when promotional code is applied at checkout
Tickets available at the door.
Doors open at 3:00 p.m. for a pre-show reception serving wine, beer, and seltzer.
Plan your visit to Music & More with this map of our supporting restaurants and merchants. Some of our local restaurants are offering special discounts to ticket holders.
The Lonely Heartstring Band have already generated a devoted following of music-lovers across North America, performing and headlining at major music festivals and historic venues from Western Canada to California, from Kentucky to New Hampshire. Whether it's a festival stage, theatre, or intimate listening room, The Lonely Heartstring Band always delivers a dynamic, diverse, and heartfelt performance. Over the last three years of touring, the band has crafted shows that generate a genuine connection and bring crowds to their feet.
The Lonely Heartstring Band, named in a tongue-in-cheek, tip-of-the-hat reference to one of their favorite albums, Sgt. Pepper's Lonely Hearts Club Band, is a genuine musicians' band, immediately appreciated by fellow-musicians who get their sound. That said, this is not esoteric or effete music intended for a select few, but has listenability that appeals to the bands already devoted following of fans and to music critics alike. Though their music is akin to the Punch Brothers, Alison Krauss, The Infamous String Dusters, or other folk-grass/chamber-grass groups in the Americana world, this band is already well on its way to making a dynamic and distinctive sound all its own.
Though characterized by intricate, precise, even elegant arrangements, The Lonely Heartstring Band's music still has all the joy and spontaneity of bluegrass or folk grass at its finest, as exemplified in George Clements's unique and sensitive, yet powerful, lead vocals, and their own extensive repertoire of originals. The Lonely Heartstring Band is comprised of the aforementioned George Clements on guitar and lead vocals, his identical twin brother Charles on bass and harmony vocals, Gabe Hirshfeld on banjo, Matt Witler on mandolin, and Patrick McGonigle on fiddle, rounding out the harmony vocals as well. Four of the five band members met while students at Boston's Berklee College of Music. Gabe Hirshfeld, George, and Charles are all from New England, while Matt and Patrick are both from the west coast; California and Vancouver respectively.
DETAILS
Sunday, April 15, 2018
4:00 p.m.
VENUE
CBSRZ
55 East Kings Highway
Chester, CT 06412
860-526-8920