Uke Can't Play Ukes Without U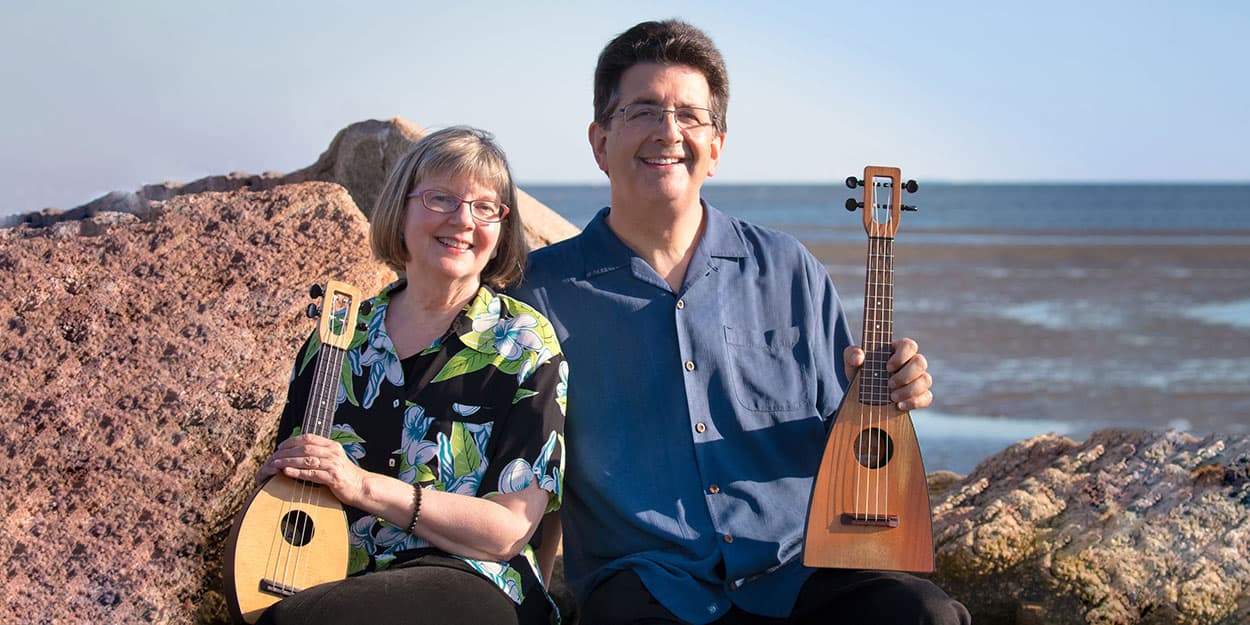 Sunday, March 24, 2019
2:00 p.m.
Tickets are still available online or at the door!
Music & More's eleventh season kicks off with a special ukulele concert and workshop event, "Uke Can't Play Ukes Without U", presented by world renowned ukulele master Jumpin' Jim Beloff and joined by his wife Leapin' Liz. The ukulele fun is set for Sunday, March 24, 2019 starting with the workshop at 2:00pm for non-players and beginners (see important details below), followed by the concert at 3:45pm featuring Jumpin' Jim, his wife Leapin' Liz, and a bass accompanist. Attendees with ukuleles will have the opportunity to join in on several songs during the concert. The workshop will last for approximately 90 minutes and with just a few simple chords and basic strumming patterns, you will be playing popular tunes and fun songs on the ukulele in no time with skilled teacher Jumpin' Jim. After the workshop there will be a short intermission followed by the concert.
Ticket Purchase
$30 (plus processing fees) for adults;
$25 (plus processing fees) for CBSRZ adult members when promotional code is applied at checkout
$15 (plus processing fees) for children 16 and under
Plan your visit to Music & More with this map of our supporting restaurants and merchants.
About the Ukulele Workshop
The workshop is open to anyone 8 years or older and no prior experience playing the ukulele is necessary. Jumpin' Jim will be targeting those that are new or just beginning to play the ukulele, although even more experienced players are guaranteed to pick up useful tips and licks from the master. Workshop participants must bring their own ukulele, tuned, and in playable condition. If you don't already have an instrument, Jim Beloff and the Music & More team have compiled these affordable recommendations for buying, tuning, and setting up your ukulele so you will be ready to "jump in with Jim" that afternoon.
If you are buying your first ukulele we suggest you buy from a local music store rather than online. They will help you find an instrument that fits your price range and get it setup and playable for you. If you buy online, all bets are off. Affordable instruments by brands such as Kala start at $40-$50. The following stores have good ukulele inventory and knowledgeable salespeople:
There are a myriad of ukulele apps for Android and iPhone to help you tune and learn the instrument. Here are a few to get you started:
A little background on Jumpin' Jim and Leapin' Liz Beloff
Finding a ukulele at the Pasadena Rose Bowl Flea Market in 1992 inspired Liz and Jim Beloff to start Flea Market Music, Inc., publisher of the popular Jumpin' Jim's series of ukulele songbooks. This series is sold worldwide and includes The Daily Ukulele: 365 Songs For Better Living and The Daily Ukulele: Leap Year Edition, two of the biggest and best-selling ukulele songbooks ever published.
Jim Beloff is the author of The Ukulele—A Visual History (Backbeat Books), producer of Legends of Ukulele, a CD compilation for Rhino Records and has made three how-to-play DVDs for Homespun. Jim is also an active songwriter. His 2014 two-CD set, Dreams I Left In Pockets, features 33 songs he wrote or co-wrote with uke legends Herb "Ohta-san" Ohta and Lyle Ritz.
In 1999, Jim composed and premiered "Uke Can't Be Serious," a concerto for solo ukulele and symphony orchestra. Since then the piece has been performed many times, most recently in 2016 with the Choate School orchestra in Germany and Austria and also with the Michigan Philharmonic. In 2017, Jim premiered a new work entitled "The Dovetale" commissioned and performed by the Wallingford (CT) Symphony Orchestra.
Liz Maihock Beloff, with a background in film and television graphics, designs the covers and art-directs all of FMM's songbooks, CDs and DVDs. She is also a talented singer who, before teaming up with Jim, sang with a cappella groups in college and New York City.
As performers, Liz and Jim have become known for their breezy, close harmonies on standards and Jim's original songs. They perform together regularly throughout the USA, playing their family-made Fluke, Flea and Firefly ukuleles. They have also toured Japan, Australia, and Canada and believe in their company's motto, "Uke Can Change the World." www.fleamarketmusic.com and facebook.com/jimbeloffmusic.
DETAILS
Sunday, March 24, 2019
2:00 p.m.
VENUE
CBSRZ
55 East Kings Highway
Chester, CT 06412
860-526-8920